All Christians are called to contribute time, talent, and treasure toward the work of God's kingdom. Our time and talents are offered as a gift to God through participating in the ministries of the church and tending to our neighbors, for example.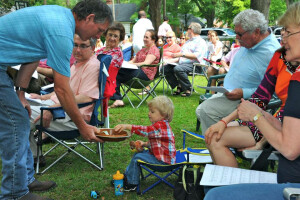 A pledge of financial resources is a particularly helpful way to return praise to God through monetary giving, enabling the ministries of the church to continue. We are grateful to all who, in giving to the church, have made a commitment to the work of God being done from this place and are responding to God's grace in their lives.
St. Mary's provides two primary methods of financial giving:
Contributing cash or checks in the offering plate during Sunday morning liturgies or delivering to the church office.
All contributions to St. Mary's are tax-deductible and giving households will receive a tax statement at the end of the year.
The ministries of St. Mary's have also flourished thanks to the generosity of many who have remembered the church in their wills. If this is something in which you may be interested, our clergy or parish administrator will be able to talk with you about various possibilities.