Church Supported Agriculture
You may have heard of the term CSA, or "Community Supported Agriculture." At St. Mary's CSA might also stand for "Church Supported Agriculture" given the interest that many of our members have in living out their life of faith in support of agricultural practices that honor God (the first and ultimate gardener!), our neighbors, and the rest of God's creation.
Two endeavors have been particularly close to the people of St. Mary's: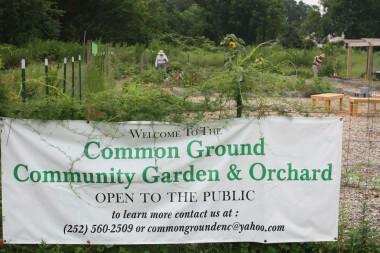 Common Ground ENC is a non-profit start-up social enterprise dedicated to promoting the growth of sustainable agriculture in Lenoir, Greene, and Jones counties as a way to revitalize our rural economy. Many members of St. Mary's have been connected to the development of this food park and natural playscape in Kinston, including one of its co-founders, Lee Albritton. To learn more about this ministry, please contact Lee and check out the Common Ground Facebook page.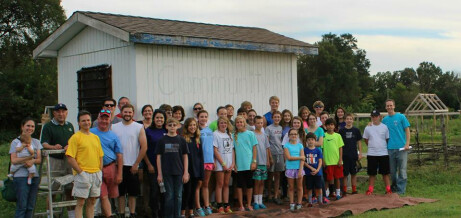 The Buyers' Club @ St. Mary's
The "Buyers' Club" is a partnership with Nature's Touch Farm in LaGrange, owned and operated by the Sutton Family: Daniel, Chelsea and their children. Nature's Touch offers free range chickens, pasture-raised hogs, and 100% grass-fed beef. Their farm is "beyond-organic" and their animal feed is non-GMO. They also raise turkeys that are available around Thanksgiving. Customers purchase their food through an online "Buyers' Club" via their website.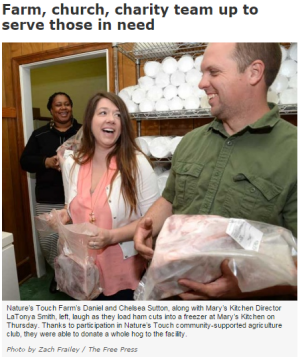 The Sutton Family has pledged to donate a whole hog to Mary's Kitchen every time a certain number of new customers mentions the partnership with St. Mary's. This way, local & sustainable agriculture is supported by people who eat healthy food and an integral ministry of the city of Kinston benefits too. See an article from the Kinston Free Press about this partnership and how Mary's Kitchen has already benefited from it here.